The Biggest English-German Comedy Show

Shows 2023
The Comedy Club Munich invites international comedians from USA, Canada, Ireland and Germany to the Stand-up Comedy Show. Each comedian prepares a NEW program for this mixed stand up comedy show.
Zur Stand-up Comedy Show läd der Comedy Club Munich internationale Comedians aus USA, Kanada, Irland und  Deutschland ein. Jeder Comedian bereitet ein NEUES Progamm für diese Mixed Stand up Comedy Show vor.
16:00 - 17:00
Saturday, April 22
Shamrock Pub
Trautenwolfstrasse 6
80802 Muennchen
Easy to reach by public transport: Stop U6/U3 - Giselastrasse
18:00 - 19:00 
Saturday, April 22
Shamrock Pub
Trautenwolfstrasse 6
80802 Muennchen
Easy to reach by public transport: Stop U6/U3 - Giselastrasse
Munich's Biggest English-German Comedy Show - 11. November 2022 at Wirtshaus Schlachthof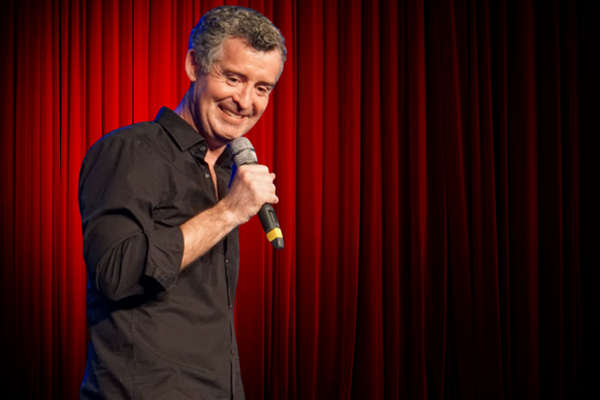 Mel Kelly from Ireland
Mel Kelly delivers Irish humour in both German and English. He understands German humour sometimes, and the Germans understand him even less. He is the engine and the heart of the Comedy Club Munich and has now done Stand-up comedy in Sweden, Ireland, Czech Republic and Germany. Mel has created this great English-German Stand-up Comedy Show.
Rene Mazing - der Zauberer
Rene´ wurde schon zum besten deutschen Comedy-Zauberer vom Magischen Zirkel gekürt.
Die Süddeutsche schrieb über ihn: " Rene´ Mazing ist mit seinem trockenen britischen Humor ein Mister Magic der Extraklasse. Das Spiel mit Illusionen beherrscht er perfekt. …." Mit seinem Programm verzaubert er in Englisch und Deutsch sein Publikum. Das Publikum bedankt sich durch Lachen und viel Beifall. Doch Vorsicht, nicht in die erste Reihe setzen! Rene´ holt immer Gäste auf die Bühne und verzaubert sie und das Geld aus ihrem Portmonee. Er war schon im Comedy Club Munich auf der Bühne und ist in Berlin im Quatsch Comedy Club aufgetreten.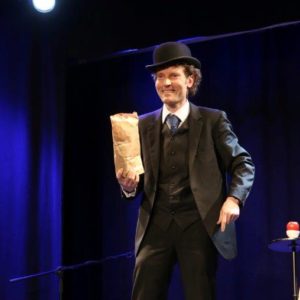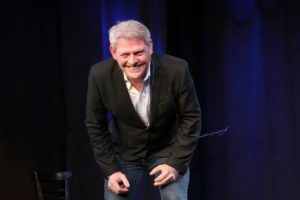 Matt Devereux, Wahlmünchner from Canada
Matt Devereux is a Canadian living in Germany who has being performing Stand-up Comedy for over 15 years. He has a unique Canadian perspective on the German way of life. He brings a humour, energy and dynamic on stage that you will never forget. Non-stop laughs are guaranteed.
Mark ´n` Simon Musi-Comedy auf Dschinglisch
Ihren Humor versteht jeder, denn sie sprechen "Dschinglisch"! Eine Kreuzung zwischen Deutsch und Englisch. Ihre "Musi-Comedy" ist eine Mischung aus Musik und Comedy. In hoher Geschwindigkeit bringen sie einen Gag nach dem anderen. Bei allem Klamauk und Nonsens ist dennoch genug Geistreiches beigemischt.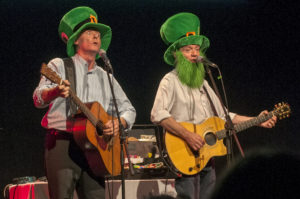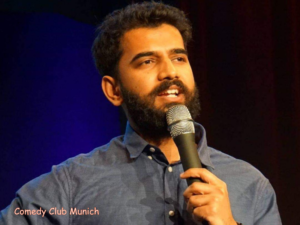 Gagan Gopal
Gagan Gopal never says no to chocolate croissants especially once they are heated in the microwave for 5 seconds.
He loves to eat, tell jokes and tell jokes while eating. He always has new ideas and surprises with his incredible humor.
Catch him live on the stage of the Comedy Club Munich.
Alex Profant
Er liebt es zu überraschen und mit Klischees zu spielen. Im Club da Heim, in der Welt zu Hause gibt er Einblicke in die Welt des Nachtlebens speziell in München. Alex Profant verarbeitet seine Erlebnisse und Eindrücke von seinen Reisen und berichtet davon bestimmt bei seiner nächsten Stand-up Comedy-Show. Bekannt aus: Comedy City Battle in verschiedenen Städten in Deutschland und München, NDR Comedy Contest, Fat Chicken Club bei Tele 5 und Punchlines auf TV München.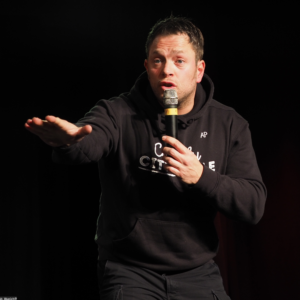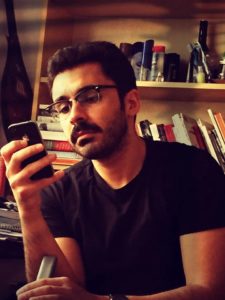 Mustafa Algiyadi
Mustafa Algiyadi brings his new program to the comedy show. He loves to read books. But even more, he loves writing and performing new comedy programs. We can be curious whether he will make us laugh with his new program after reading all the books. We are looking forward to his presentation.
Berhane Berhane
Berhane Berhane begeistert sein Publikum mit seinen "aktuellen deutschen Themen" , die er aus seinem einzigartigen Blickwinkel betrachtet.
Schon bei seinem ersten Auftritt bei uns im Comedy Club Munich war er dadurch mit dem Publikum verbunden.  Er weiß einfach sein Publikum zu unterhalten. Bei seinem Kurzauftritt in der Show bei Bülent Ceylan war Bülent mehr als begeistert und sagte: "Der Typ ist so geil!"
Seid dabei und lasst euch diese Lach-Garantie nicht entgehen…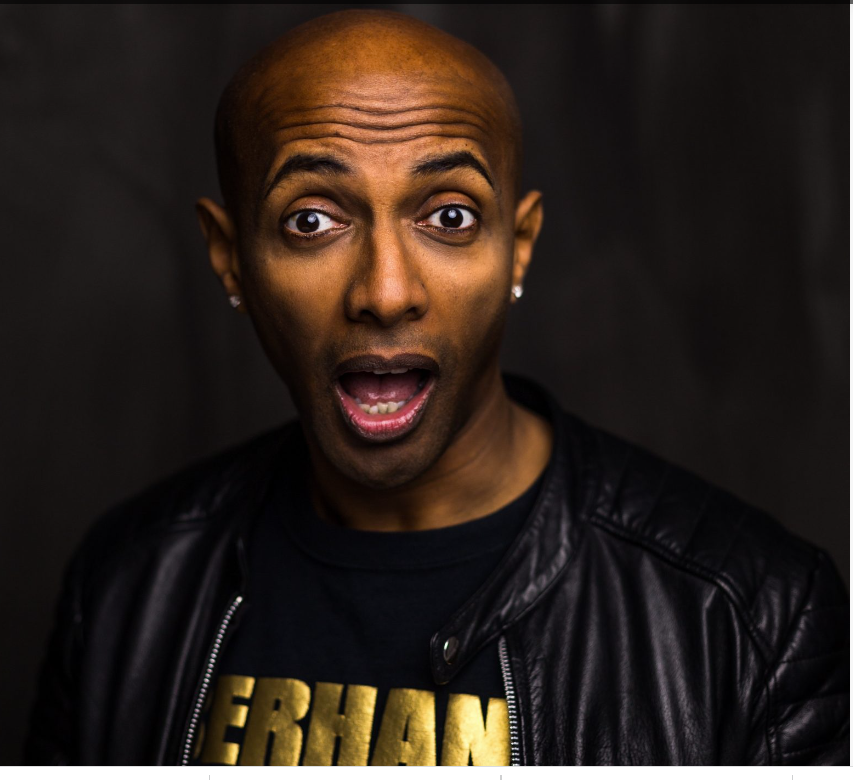 Mel Kelly
September 2019
Drehleier München
Gagan Gopal
September 2019
Drehleier München