Welcome to Comedy Club Munich
The biggest English-German Comedy Club in Germany!
The first time on stage of Comedy Club Munich!
New comedians with new programs on our stage at the next stand-up comedy show
on Thursday, June 23, 2016 at 20:30
of Comedy Club Munich.
A big surprise from USA: Lois Bromfield
She began her career as a comedian at The Comedy Store in LA. She performed in many clubs throughout the U.S as well as countless television appearances. She turned her attention to sit-com writing. In June Lois Bromfield will give her first presentation in Munich at stage of Comedy Club Munich.
and of course our comedians from Comedy Club Munich are there too.
Let us surprise!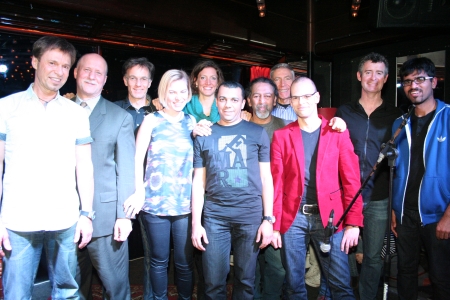 Comedians in our Show
The Comedy Club Munich Team:
Mel Kelly delivers Irish humour in both German and English. He understands German humour sometimes, and the Germans understand him even less. Sometimes he even wears Lederhosen on stage!
He is a co-founder of the Comedy Club Munich and has now done Stand-up comedy in Sweden, Czech Republic and Germany. He has also won many European Humourous Speech Contests in English and in German.
Mel Kelly, ein Münchner aus Irland
Sein Publikum liebt seine humorvollen schrägen Geschichten mit Tiefgang und vielen Pointen. "Die wunderbare Welt der Psychopathen" oder " Im Flugzeug" sind nur 2 seiner bekannten Auftritte im Comedy Club Munich.
Dort zündet er in seinen Moderationen ein Feuerwerk an Witzen und bringt gern so manchen Zuschauer in den ersten Reihen auch mal ins Schwitzen….
Andreas Beckenbach, ein Sachse in München